EMF Best Practices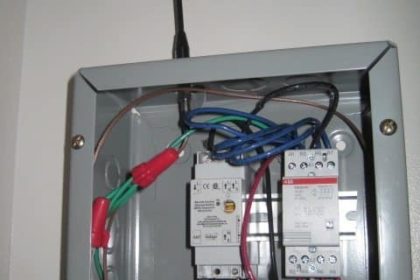 This is part of the series on the Healthy Home Standard, and this second part about EMR is a follow up from an earlier post (EMF Rules of Thumb). EMF best practices covers low frequency electric and magnetic fields, as well as Radio Frequency (RF) radiation.
EMF best practices are intended to reduce exposure to Electromagnetic Fields (EMF) and Radio Frequency (RF) Radiation – often combined in the term "electromagnetic radiation," or "EMR". These low-EMR measures include how to install wiring, heating/AC, and other tips on items such as transformers for pool or outside lighting. For information on how far to locate a building from known point sources (e.g., power lines, cell towers, electrical transformers), please visit the previous EMF Rules of Thumb blog.
I find these guidelines useful for pre-purchase real estate decisions, and also for healthy building construction and remodels.
EMF Best Practices – Part 2 of 2
Electrical System Installation for Low-EMR:
All rooms are wired for high speed Internet using Cat 5e or 6 cable
All rooms wired for phone service using shielded cable
There is no wireless Internet or cordless phones in house
There are no cell phone booster stations in house
 All circuit breakers are accurately labeled as to area/devices serviced
Low-EMR Heating Via Forced Air:
If there is air-conditioning, the AC condenser & Freon lines are more than ten feet of any point on any bed or any HUR
If there is a forced air system for ventilation, heating or air-conditioning, the Air Handling Unit (AHU) or Forced Air Unit (FAU) fan motor is located more than 10 feet from any point on any bed or any HUR
Low-EMF Electric Radiant Heat:
Ceiling or floor radiant electric heat designed to cancel magnetic fields
If heat is by electric baseboard, electric baseboard heaters are located more than 5 feet any point on any bed
ThermoSoft seems to have a good low-EMF electric radiant heating system that accounts for both magnetic AND electric fields. However, it's not "zero-EMF" as they claim.
Low-EMF Wiring In A Bedroom:
Using only one of the following 3 strategies is necessary – each strategy is intended to minimize electric fields.
Wiring above, below, around bedrooms is metal clad (MC) cable or electrical metallic conduit
Wiring above, below, around every bedroom can be shut off with a kill switch
Wiring above, below, around every bedroom can be shut off with a remote control switch operating a relay located at the electric panel
Pool and Spa Pumps & Outdoor Lighting Transformers
If there is a pool or spa, the pool or spa pump or outdoor lighting transformer is located more than 5 feet from any bed or any HUR
These EMF Best Practices have been established for many years, and we have seen them implemented successfully in projects around the world. They are tried and proven best practices for reducing EMF. I'm grateful to the Building Biologists that came before me… and not only created this handy resource, but also were kind enough to share!
If you're doing a remodel or building from scratch, following these best practices will get you a "better than average home." To take it to the next level, consider hiring a Healthy Building Consultant!
If you agree that the USGBC/LEED should consider EMF in their "green building rating system," please join us in signing this petition.
Backstory : LEED Denies EMF Credit
Petition : USGBC Accept EMF Credit