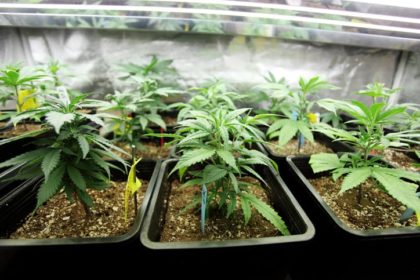 With the legalization of marijuana, some black-market growers are abandoning their illegal cannabis grow operations. Grow ops, often set up in rented properties, can leave a mess for landlords to clean up. Many of these properties are put up for sale and then become the responsibility of the home buyer. Identifying a grow op is  not difficult because of the distinctive, lingering odor. However, eliminating odors and identifying other potentially dangerous issues and modifications is another matter.
Common Grow Op Modifications
Modifications to ventilation, air conditioning, electrical, and water lines are common for indoor cannabis grow operations.
Growing plants indoors creates high humidity that needs to be expelled. Different approaches to this could involve splicing into existing household duct work. New duct work can also be "installed" by cutting holes in the building to exhaust to the exterior, or worse, exhausting elsewhere inside the structure. Exhaust ducted into the attic, crawlspace, or wall cavities can lead to mold problems and potential structural damage.
Holes created in the building envelope for ventilation may not be weather tight which could allow rainwater or pests access.
The high electricity demands of grow ops may lead to unsafe electrical modifications.  Electrical generators may also be used to meet the demand. In this case, diesel contamination may exist on site.
The use of pesticides and fungicides can also lead to site contamination. Pesticide residues can remain on surfaces. Pesticides could also be spilled or disposed of on site leading to soil contamination or pesticide-soaked building materials. Surface or soil lab sampling may be necessary to determine the extent of such contamination.
Another potential hazard is that the property may have been used for the manufacture of other drugs, such as methamphetamine. Contaminants from meth production pose health hazards for those performing a cleanup if they aren't properly protected.
How to clean up a cannabis grow op
Establish if the site is also contaminated by the manufacture of other drugs. Surface sampling may be necessary.
Hire a licensed electrician to inspect and repair unsafe electrical modifications.
Hire a licensed mechanical contractor to inspect and repair modifications to the household HVAC ducting.
Inspect for mold and moisture related damage to the structure. These can occur from excess humidity, from leaks in irrigation lines, or from moisture intrusion through poorly installed ventilation.
Test for pesticide residues or other contaminants, such as spilled fuel.
Remove all water damaged building materials such as the sub-floor.
Remove residues from surfaces that harbor odors. Fatty terpenes are responsible for odors, they are very sticky and difficult to remove. You'll need to clean all surfaces with soap. The surfactants in soap cut through the terpenes. Porous surfaces will be more difficult, if not impossible to clean, and may need to be discarded.
Presence of extensive interior mold may require professional mold remediation.
In Canada where growing plants for personal use indoors is now legal, real estate agents have recognized the risks to properties associated with indoor grow ops. The Ontario Real Estate Association (OREA) has developed a five-point plan for impacted properties with the goal of making buildings safe for home ownership and for home buyers.
Among their recommendations is to inspect illegal grow operations and determine what actions are required to make them safe. OREA also recommend that all licensed home inspectors be required to have training on identifying the signs of former marijuana grow ops.
Links:
Ontario Real Estate Association 5-point Plan
We are experienced in working with growers and building owners to address environmental concerns. Some want to optimize growing conditions, and others want to rid a building of all evidence and contamination from past tenants. If you need water testing, soil testing or air quality testing in the San Francisco Bay Area, please
Healthy Building Science is an environmental consulting firm providing mold testing and mold inspection services for commercial and residential buildings, offices, industrial and manufacturing workplaces, hospitals, medical facilities, multi-family and single-family homes in the greater San Francisco Bay Area, all of Northern California and the cities of San Francisco, San Jose, Oakland, and Sacramento.