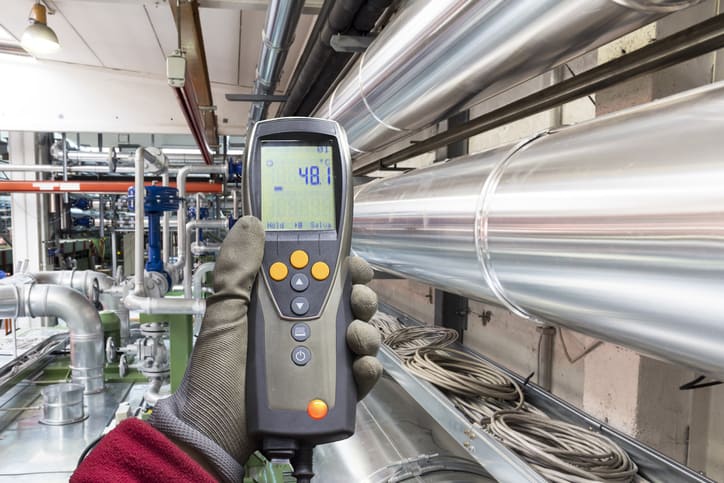 Indoor Air Quality Expert
Strange smells have employees complaining? Runny nose or asthma symptoms inside? Need LEED IAQ testing or Compliance Testing for OSHA, EPA or FDA? An Air Quality Inspection from our industrial hygiene team is the first step toward addressing these concerns.
Some air pollutants you can see or smell, but many dangerous air contaminants are colorless and odorless. Without the right equipment and expertise, it is impossible to know what is in the air you breathe. Considering the EPA says indoor air is commonly more than five times more contaminated than outdoors, people want to know if their air is healthy or if mitigation is necessary. If you have any doubts about the IAQ in your home, office or workplace, it is time for an Indoor Air Quality Survey.
We detect and identify indoor pollutants and helps inform clients about their environment. Often times simple and affordable changes in purchasing or lifestyle habits can have a dramatic effect on Indoor Air Quality (IAQ). Other times using an air purifier, air-sealing the crawlspace or parking garage, or perhaps more involved mitigation is required to achieve good air quality. Let us inspect your building and run a number of tests to "see" what's in the air and identify any "smoking guns."
Indoor Air Quality (IAQ) vs Indoor Environmental Quality (IEQ)
Following the principles of Building Biology, we consider the building as a system and all the environmental factors as part of the bigger picture. Indoor Environmental Quality (IEQ) is a broad umbrella term covering air quality, electromagnetic radiation, thermal comfort, acoustic factors, and light quality, etc. Indoor Air Quality (IAQ) is a subset of IEQ. We are a full-service industrial hygienist company that can coordinate testing for all IEQ parameters. So if employees are complaining or you need compliance air testing, please consider us for your Indoor Environmental Inspections.
Air Quality Testing, VOC Testing, and Formaldehyde Testing
There are many reasons one may need an air quality assessment. Property managers and facility manager responsible for commercial buildings often receive occupant complaints about bad smells. Some manufacturing and packaging facilities require compliance VOC testing, bacteria, and mold testing, or silica testing every quarter or every year. And then there are everyday homeowners and renters who are worried the air they breath is making them sick. Contact an air quality consultant for your air quality testing services across the San Francisco Bay Area.
Air Quality Assessments includes screening for particulates, allergens, molds (viable and non-viable), and volatile organic compounds (VOCs). Air quality lab results can help in the diagnosis of a building and confirm occupant concerns about specific pollutant or give peace of mind.
VOC Inspection
One of the more common inquiries we receive is around bad smells. "Our employees on the factory floor say there's a chemical smell and they don't want to come to work." Or, "our office is located near a dry cleaner and we are worried about the chemical smell." Most Volatile Organic Compounds (VOCs) have odor detection thresholds at relatively low levels. That means humans can often detect chemical odors at levels well below what our regulatory agencies consider harmful to health. VOCs are generally reported in parts per million (ppm), parts per billion (ppb), or in micrograms per cubic meter (ug/m3). To the surprise of many, except in rare circumstances, we almost always find VOCs are within acceptable VOC levels according to regulatory agencies.
VOC testing methods generally involve collecting bulk air in an evacuated canister or drawing a known amount of air over a sorptive material. Air samples are then sent to VOC testing labs where a VOC testing procedure is utilized to generate precise results. The procedures and testing methods vary depending on what chemicals you are looking for, and what agency requires the air testing. VOC results can be reported as Total VOC (TVOC) and/or each identified VOC may be quantified specifically. For example, LEED IAQ Testing procedures only ask for TVOC below 500 ug/m3, but testing requirements for a dry cleaner will include detailed results for Perchloroethylene (PCE). There are thousands of VOCs that can be tested. LEED Air Quality testing is a good example of an optional air quality survey.
Air quality analysis may also include testing for Semi-Volatile Organic Compounds (SVOCs). These compounds are generally released more slowly and in lower concentrations than VOCs, but research is pointing toward SVOC contaminants being equally important for indoor air quality.
Formaldehyde Survey
Formaldehyde testing methods are different than those used for VOC testing. Aldehydes include formaldehyde (formalin), glutaraldehyde (Cidex), o-Phthalaldehyde (Cidex OPA), acetaldehyde, benzaldehyde, butyraldehyde, crotonaldehyde, hexaldehyde, propionaldehyde, tolualdehyde, and valeraldehyde. Formaldehyde testing is the most common, but any aldehyde may contribute to unhealthy indoor air.
We are commonly called in for eye, nose and throat complaints and perform commercial air quality testing for formaldehyde. LEED IAQ and WELL Building Standard Verification Testing also require testing for formaldehyde in ambient air. Formaldehyde emissions testing is available to compare emission rates from various building materials. Healthy Building Science will send samples to formaldehyde testing laboratories or perform real-time relative formaldehyde emission testing onsite. In cases where only one or two materials, such as new floors or cabinets, are creating elevated formaldehyde exposure, real-time formaldehyde testing can help quickly identify the offending material.
We are proud to be among the few formaldehyde testing companies with the ability to compare relative formaldehyde emissions onsite. This involves putting air testing badges on building materials and testing them 20 minutes later. We have solved many odor problems and allergy complaints by helping identify the worst offending formaldehyde emitter indoors.
Allergen Testing
Some people have allergic reactions to VOCs. Many consider the smell of laundry detergent or perfume offensive, but some actually have allergies to these airborne chemicals. Formaldehyde is a very common allergen. There is also a whole host of particulates that can trigger allergy symptoms and asthma attacks.
While these biological allergens do not have regulatory exposure limits, they certainly should be considered as part of any thorough and professional indoor environmental survey.
Common dust and fine particulate allergens include:
Fungi: mold spores and hyphal fragments
Pollen: grass, mulberry, oak, pine, ragweed, sycamore
Other plants: algae, diatoms, fern/moss spores
Animal: skin cells, hair, insect parts, mites, dander
Non-biological irritants: cellulose fiber, glass fiber, starch particles, synthetic fibers
When most people think of allergy testing they imagine going to the doctor at a medical office building, but there is also allergy testing for the home, office, retail and manufacturing facilities. Allergy testing for buildings involves collecting air or dust samples and submitting them for custom lab analysis. This sample collection procedure is common during indoor environmental assessments.
Air Quality Consultant San Francisco Bay Area
Air quality inspections are mostly science, but there is a little art in determining locations and appropriate air testing methods. Inspecting the building and hearing from occupants, forming a hypothesis and environmental testing protocol, carefully collecting air and dust samples and analyzing the lab results is work for the environmental professional. Interpreting lab results requires extensive training and experience. Some regulatory requirements insist you hire an expert third party air quality consultant when it comes to air testing, and hiring an unbiased expert is always best when doing due diligence or in preparation for legal arguments.
Healthy Building Science provides you with easy-to-understand reports summarizing key findings from the inspection and offering practical suggestions for mitigation. Our air quality experts serve the entire San Francisco Bay Area, and beyond.
Air Quality Assessment Process
#1: Develop a hypothesis through the collection of information including occupant surveys, historical building records and an initial building walkthrough. What do we think may be the problem? Are there visual clues of water damage? Do we smell anything peculiar or more concentrated in certain areas of the building? Is air filtration present and when was the filter last changed? Consider the "4 Ps": People, Pressure, Pathways and Pollutants.
#2: Develop an air quality testing procedure to test the hypothesis. This may involve real time air quality meters, long-term data monitoring and/or air sampling for lab analysis.
#3: Reassess and repeat if necessary. Implement mitigations if appropriate. This is the scientific method at work!
It seems straight forward but industrial hygiene is not always easy and the barriers to entry in this field are significant. If you find a good industrial hygiene company – keep them in your Rolodex for the next environmental complaint!
Air Quality Survey Sample Projects:
Petaluma air quality testing for hospital and schools
Cupertino allergen testing for retail center
Palo Alto VOC testing in grocery store
San Francisco LEED IAQ testing in commercial offices
Oakland air testing for particulates in hospital
San Jose testing for formaldehyde in schools
Santa Rosa air testing for smoke and particulates in home
Air Quality Testing Bay Area
Healthy Building Science is an environmental consulting firm which provides air quality inspection services for commercial, multi-family buildings, offices, industrial and manufacturing workplaces, hospitals and medical facilities, and single-family homes in the greater San Francisco Bay Area and all of Northern California including the cities of San Francisco, San Jose, Oakland, Sacramento, Santa Rosa, Hayward, Sunnyvale, Fremont, Concord, Salinas, Santa Clara, Berkeley, Vallejo, Fairfield, Antioch, Richmond, Daly City, San Rafael, San Mateo, Vacaville, San Leandro, Livermore and Alameda County, Contra Costa County, Marin County, Napa County, San Mateo County, Santa Clara County, Solano County and Sonoma County.
We would be pleased to become your go-to industrial hygiene consultant and help you with any of your air quality assessment or air quality testing needs.
Please call 415-785-7986 or complete this online form today!