Healthy

Building Inspection vs. Sick Building Inspection

At times we all have questions about our environment. A new smell, change in the taste of the water, or dust from a nearby construction project triggers environmental concerns. When employees have environmental complaints or a regulatory agency requires testing, you need an expert industrial hygienist on your team to help perform due diligence and compliance testing. When this business was established in 2010 we debated "Healthy Building Inspections" or "Sick Building Inspections," and we decided to keep it positive. But the number of times our clients are just being proactive pales in comparison to complaint-driven and compliance-driven environmental inspections.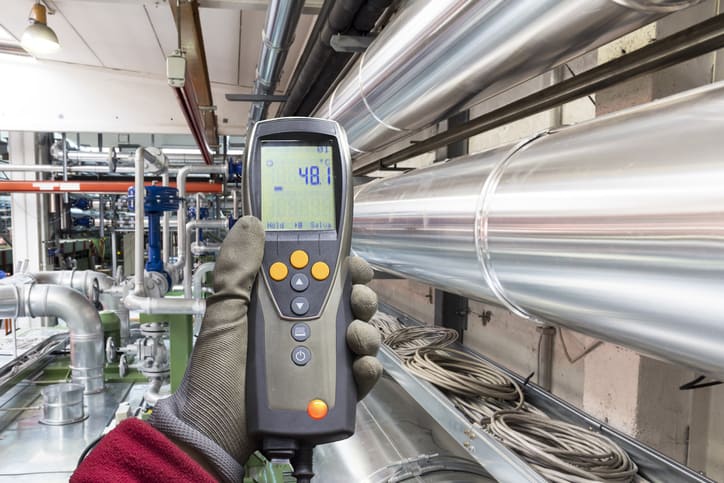 Who Needs a Sick Building Inspection?
We offer environmental consulting and environmental surveys for homes, multi-family residential buildings, commercial offices, hospitals and medical buildings, pharmacies, schools, and industrial and manufacturing facilities. We are a one-stop-shop for all your environmental assessment needs.
Building owners, facility managers, HR and business management, construction companies and property managers are all too familiar with occupant complaints and environmental oversight. Keeping ahead of complaints and in compliance with all the agencies can be overwhelming for your business and compliance team. One misstep can cost in terms of real human harm, branding image, and cold hard cash with regard to long-term legal ramifications. Non-compliance with certain regulations and one accident can be the end of your business.
We are headquartered in the San Francisco Bay Area and our industrial hygienist team specializes in environmental assessments and IH consulting for all building types.
Environmental Compliance Survey Services Include:
OSHA and EPA Compliance Inspections
Asbestos Testing
Expert Environmental Inspection Company San Francisco
Environmental inspections and industrial hygiene are a science. Inspecting the building and hearing from occupants, forming a hypothesis and environmental testing protocol, carefully collecting samples in the field, and analyzing the lab results is work for the environmental inspector. Even the smallest misstep in collection can skew the lab results of an environmental sample. And even with lab results in hand, interpreting those results requires extensive training and expertise. You need an expert third party environmental inspector on your team.
Healthy Building Science provides you with easy-to-understand reports summarizing chemistry lab findings and offering practical suggestions for mitigation – if and when necessary to meet compliance standards. Established in 2010, our assessment protocols and professional evaluation team serve the entire San Francisco Bay Area, and beyond.
Environmental Assessment Process
If your environmental inspector starts the process talking about environmental testing, you probably don't have the right industrial hygienist on your team. Any testing should be done after an initial site inspection, and testing is the last resort as a way to prove or disprove a hypothesis generated during the environmental site survey. Here is how the process generally unfolds if you engage with HBS:
#1: Share a little information about your particular project and why you are looking for an environmental consultant. Call us (415-785-7986) or complete this online form. We need some basic details in order to generate a quote for environmental inspections.
#2: We send you an estimate for the environmental assessment and any potential testing that may be required to address your specific environmental guidelines.
#3: If you approve the quote for the environmental survey, then we send over our standard Building Inspection Service Agreement for electronic signature. The Service Agreement outlines our standard limitations, terms, and conditions.
#4: Schedule your environmental inspection. We generally schedule building inspections in the San Francisco Bay Area, Monday through Friday, 8AM-5PM, but we do make exceptions for some clients that require site visits during nights and weekends.
#5: Our environmental inspector (e.g., Industrial Hygienist, IH) shows up to the property in question. With a vehicle full of state of the art testing meters, and years of industrial hygiene experience, we're confident that our environmental consultant will meet or exceed your expectations.
#6: The healthy building inspector will perform the environmental survey and any environmental sampling you both agree will add value to the assessment.
#7: Often times only a flashlight and a trained inspector is necessary to identify a smoking gun, but if lab analysis is requested results are generally ready within a week. Although some custom lab results can be expedited and ready same day, other special environmental testing screens may take up to 3 weeks. The IH assigned to your case will explain the different turn around times and pros and cons of the testing options.
#8: You will receive an environmental building inspection report with highlights from the site survey, including any environmental testing labs and recommended environmental remedial actions. Our goal is to provide an easy-to-read report summarizing key findings, comparing environmental testing results to allowable thresholds established by the relevant regulatory agency, and suggesting ways to improve environmental quality if appropriate.
Sick Building Expert
No one hygienist or IH company is an expert in every field of industrial hygiene. As an industrial hygiene company we have focused most directly on air inspections, moisture and mold inspections, soil surveys, water sampling, radiation (RFR, FCC and ionizing) and EMF inspections. LEED IAQ and WELL Building Verification, lead inspections and asbestos surveys, and OSHA and EPA compliance inspections also fall under our umbrella of expertise.
Environmental Survey Sample Projects:
Hayward environmental inspection of a metal fabrication facility
Sunnyvale commercial office survey for air quality
San Francisco commercial office mold inspection
San Jose lead survey for a medical office building
Santa Rosa air quality inspection for hospital
Petaluma mold and moisture inspection for school building
Walnut Creek water testing for multi-family HOA
San Francisco mold inspection for multi-family housing
Berkeley sick home inspection
San Mateo air quality testing for a retail outlet
Napa EMF inspection for governmental building
Environmental Consultant Bay Area
This business started as Healthy Building Inspections LLC and has since morphed into a Benefit Corporation named Health Building Science Inc. Our focus on "helping people get healthy buildings" has not changed. We provide expert industrial hygiene and environmental testing for all building types including multi-family buildings, offices, industrial and manufacturing workplaces, retail, hospitals, and medical facilities, and even single-family homes in San Francisco, Alameda, Contra Costa, Marin, Napa, San Mateo, Santa Clara, Solano and Sonoma counties.
Healthy Building Science is an environmental consulting firm which provides healthy building inspections services, expert industrial hygiene and environmental testing for commercial, multi-family buildings, offices, industrial and manufacturing workplaces, hospitals and medical facilities, and single-family homes in the greater San Francisco Bay Area and all of Northern California including the cities of San Francisco, San Jose, Oakland, Sacramento, Santa Rosa, Hayward, Sunnyvale, Fremont, Concord, Salinas, Santa Clara, Berkeley, Vallejo, Fairfield, Antioch, Richmond, Daly City, San Rafael, San Mateo, Vacaville, San Leandro, Livermore and Alameda County, Contra Costa County, Marin County, Napa County, San Mateo County, Santa Clara County, Solano County and Sonoma County.
We are a Benefit Corporation and our focus is on "helping people get healthy buildings." We would be pleased to become your expert environmental inspection company and help you with any of your environmental survey needs.
Please call 415-785-7986 or complete this online form today!