Green Business Certification
/
Thursday, 18 April 2013
/
Published in
Business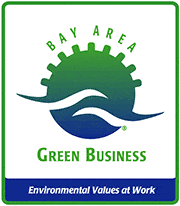 Green Business Certification
This blog covers a few green business certification programs making a real difference in the world. Products are Organic Certified, FSC-certified, Green-Seal Certified, Cradle-to-Cradle Certified, etc.  Then there is LEED Certification and GreenPoint Rating for buildings. But what about a sustainable business certification? I'll discuss Bay Area and San Francisco green business programs.
Bay Area Green Business Certification
Healthy Building Science is a Certified Bay Area Green Business.
The California Green Business Program is administered through the Department of Toxic Substances Control. The program does define best practices for managing hazardous waste, recycling, etc., and it also dives into environmentally preferable purchasing, green cleaning, and energy and water conservation. This certification is focused on environmental criteria.
Our listing reads, "HBS is a green building and environmental testing company with a commitment to sustainability. We recycle, buy recycled and biodegradable goods whenever possible, are conscious of our energy consumption, use biodegradable soaps, etc…"
For our new office there were three audits as part of the certification process. First came Marin Municipal Water District for a water audit. They made sure we had low-flow toilets and showers, and checked for any leaks. Then came Pacific Gas & Electric for an energy audit. They evaluated our HVAC, lighting, and plug loads. And lastly came Dana Armanino to do the final review of our purchasing and review the results from the energy and water audits. These audits were very helpful and did result in improved processes for the office.
In order to get this certification we had to de-lamp all of our overhead lighting (old T12s), and go to LED or CFLs. Since we don't like the dirty electricity or mercury associated with CFLs, we went with an LED lighting upgrade!
San Francisco Green Business Certification
The San Francisco Green Business certification program is is a local city-wide initiative that recognizes SF-based sustainable businesses. There aren't too many members, but we encourage everyone to check them out and support their efforts!
Global Sustainable Business = "Certified B Corporation"
Certified B Corporation is a trademark of BLab, "The Non-Profit Behind B Corps."  To become a B Corp is an involved process that begins with taking the online B Impact Assessment. If you own or manage a business, and want to get an overview of best-business-practices for positive environmental and social impacts – take 2 hours and run through the B Impact Assessment!
Healthy Building Science is in the process of becoming a Certified B Corp. We have changed several policies and implemented some really cool best-practices, such as:
Tracking Green House Gas (GHG) emissions from our travel and office energy usage.

Buying carbon off-sets to move HBS toward being carbon neutral.
Purchasing policies informing our supplies of our preference for environmentally friendly materials.
Paid days for employees to participate in community service.
More transparency on management and financial matters.
Brand recognition for BCorp is growing quickly. As of today there are fewer than 750 BCorps worldwide. If I were to draw a comparison, BCorp is to SF Bay Green Business, as LEED is to GreenPoint Rated. Certified B Corporations are recognized as leaders in the sustainable business environment, and this particular rating system is the current leader in terms of global clout.
These sustainable rating systems for businesses really do work! We've made tangible improvements and we fully support other sustainable businesses who have taken the extra step of becoming certified.
Let us know if you'd like help greening your business. We would love to walk you through any of these rating systems and ensure you score well and maximize the benefits of becoming "green certified."