Stealth Meters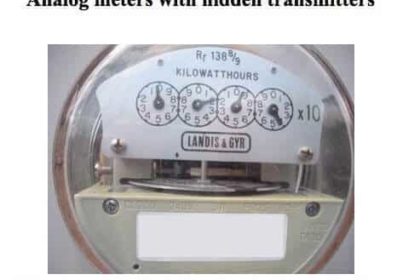 "Stealth" Power Meters: Analog Meters with Hidden Transmitters
A client recently shared their experiences regarding a stealth power meter that had been installed on their home.
The following has been anonymized:
We had opted out of the Smart Meter program about a year ago.  The electric company had come out and swapped in an analog meter with dials. For all the visual aspects of the meter, the analog meter did not look 'smart'. Over the year we seemed to continue to have some health effects from it and asked the electric company to replace it with another analog meter. After they swapped out the analog meter for newer analog meter, our symptoms actually became much worse. Our high blood pressure climbed further, our teeth began uncontrollable chattering and we were unable to go to sleep. We had called the electric company again and told them we could not live with the new meter and asked them to change it back.  They refused, saying that we did not have a smart meter, saying that they could tell because they could not see the power usage of our house. We called them again and talked with their supervisor. Again, they reiterated that we didn't have a smart meter.  They denied that their analog meter was transmitting anything, insinuating that we were crazy. I told them it was a medical issue and they still refused to change the meter saying it could not be their meter. A few days later we left the house, because it had become unlivable.
A couple of days later an electric company worker showed up. We showed him the meter and he said "you do not have a smart meter, so I will not swap it but I will put in a ticket for a meter reader to check it". He left and within an hour a meter reader came.
The meter reader noticed that our analog meter was a Landis & Gyr MX with a "Watt Only Meter "decal. This is the manufacturer and model name of a PLC Smart Meter. Under the decal it actually says "Smart Meter". The decal covered it up, but by looking down between the glass cover and the body of the meter you can read the older label.
It turns out that the Landis & Gyr MX was an older iteration for the Smart Meter program but were not ultimately used in the final rollout of smart meters.  These meters were to be sent in for servicing to have their transmitter modified/disabled and then they were to be reused as opt-out meters. The people in the servicing department were supposed to disconnect the PLC part to disable the transmitter to make these function properly as non-smart opt-out meters. Apparently the service department did not disable the PLC correctly so it was still functioning and transmitting, but not at a frequency that the electric company was listening for. The electric company headquarters did not know of this because they could not read the transmission. It took a meter reader with on-the-ground knowledge of the issue to identify the problem.
There is a lot of confusion out there regarding  Analog/Digital Smart Meters. It is not simple to identify thesm visually anymore as there are analog meters with old transmitters not set for the current smart meter frequencies and there are also new digital meters that do not have smart meter transmitters.  It is possible to have analog meters that can be hidden smart meters and digital meters can be non-smart meters.
The list below shows several manufacturers and the models of their analog Smart Meters. Please be aware that this list is not comprehensive:
Manufacturer
Model
ABB
AB1
D5S
Elster
AB1R
General Electric
I-70-S
Landis + Gyr
MS
MX
Schlumberger
J5S
Siemens
MS
MX
For additional information regarding stealth power meters: analog meters with hidden transmitters, check the following website:
They have described ways to identify stealth power meters that are not on the above list as well.