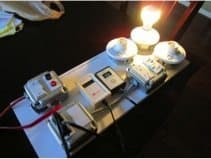 EMI and LEDs –  Not all LEDs are the same! Electromagnetic Interference (EMI, aka: "Dirty Electricity," or "High Voltage Transients") is a term coined for quick transient pulses, harmonics, spikes and dips in the electrical power in a home's wiring that deviates from a purely 60Hz sine wave.  These often occur due to computers, other
Who is Healthy Building Science?
Environmental Testing Services at HBS
Sign up for our Quarterly newsletter
Subscribe to our e-mail newsletter to receive helpful updates and articles from Healthy Building Science.
Sign Up For Newsletter
We value your privacy.
Your email is never shared or sold.
Blog Categories
Archives